Update | March 8, 2022
Dear PIFS Parents, Faculty, and Community,
It is with great excitement that we write to introduce you to our next Head of School, Dr. Jaime Quackenbush. Jaime has accepted our offer to take over PIFS school leadership when our beloved Mrs. D. steps down.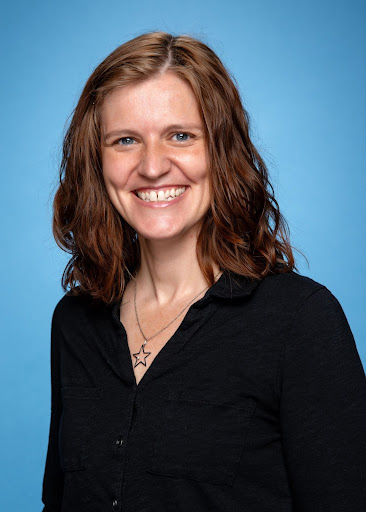 Jaime is a bright, talented, and committed educator with an impressive professional background. She earned her doctorate at Columbia University and has spent the last eight years as the Lower School Director (PreK – 5th grade) at Greene Hill School in Brooklyn, New York. Jaime lives by the importance of strong relationships, a shared commitment to mission, and ongoing learning for everyone in the community. She believes best practices are where day to day routines meet good research. Jaime loves children of all ages and is thrilled to lead such a caring and child-centered school.

As part of the search process, our Committee spent considerable time speaking with Jaime's current and former colleagues, all of whom gushed over how fantastic Jaime is, both as a person and as an educational leader. They described her as incredibly thoughtful, remarkably level-headed, and ever-curious. Her passion for and dedication to early childhood education is clear, and she is renowned for living her school's mission and meeting her children and their families as well as her colleagues where they are so that they can all grow together. We have no doubt that Jaime will be a huge asset to the
PIFS community, both in the school building and beyond, for many years to come.

Jaime and her family will be moving from Brooklyn to Westchester County in the coming months, and her son, Gabriel, will join our young learners next year.

We feel so fortunate to be welcoming Jaime into the PIFS community, and we look forward to having our parent-body and staff meet and get to know Jaime as she gets settled in the area. Please do not hesitate to reach out to me or any member of the Head of School Search Committee with any questions or comments.

Many thanks, as always, for your valued participation in this process and in our school development

Warmly,
Laura Sullivan and the PIFS Board of Trustees
---

Update | February 3, 2022
Dear PIFS Family,

We write to provide an update regarding our search to identify a successor for our beloved Mrs D.

We are pleased to share that the opportunity to lead PIFS has attracted a strong pool of qualified candidates. The search is moving along on schedule, and the Search Committee has been active with several important tasks. Most recently, the Committee received and reviewed the dossiers of a number of highly qualified candidates presented to us by our Educators' Collaborative consultants, Mary Seppala and Steve Piltch, following their thorough screening of a pool of over 100 candidates. After extensive discussion, the Committee invited five candidates for confidential, semi-finalist interviews via Zoom, which took place this past Friday and Saturday.

The Committee was excited by the strength of the semi-finalist candidate pool, and we have unanimously selected three candidates to advance to the finalist stage and visit PIFS in the coming weeks.

Next week, each candidate will spend a full day on campus meeting with administrators, teachers, and parents in both small and large groups. There will be an opportunity for interested parents to meet the finalists at 10:30am via Zoom on Monday 2/7 with Tara Mastin, Wednesday 2/9 with Jaime Quackenbush, and Thursday 2/10 with John Munro. Please respond here if you would like to get involved.

Each member of the PIFS community who has contact with the finalists will have the opportunity to provide feedback via an online survey. The Committee will then carefully review the feedback and factor it into our final recommendation to the Board of Trustees, who is responsible for the final selection of the Head-elect.

It is anticipated that the Board's selection will be announced in the late spring. We thank Mrs D. for her outstanding leadership, which has played an integral role in attracting such an excellent pool of candidates, and we look forward to her ongoing partnership and support.

Thank you for your continued engagement in this important process and for your continued commitment to PIFS.

Sincerely,
The PIFS Head of School Search Committee

---

A Note From Mrs. D
Dear PIFS Family,
Nine years ago this month, I drove down the Putnam Indian Field School driveway for the first time. The warmth and beauty of the campus was immediately apparent, and I hoped from that very first visit that I would have the opportunity to call PIFS my school.
Since that day, I have truly enjoyed being part of such a vibrant early childhood community working alongside devoted educators and dedicated parents. Through the years, we have strengthened every aspect of our program and, as a result, PIFS is well positioned to envision its future.
While a difficult decision, it is with this ideal timing in mind that I have decided to transition out of my current role at the end of the academic school year. Though I'm not planning to retire, I hope to find an opportunity that allows me the flexibility to spend more time with my family in Rhode Island. Together with the Board, we have begun a search for the next Head of School. I have pledged my support for as long as needed to identify, hire, and guide our next leader. Our collaborative goal is to take advantage of this opportunity to pass the torch and simultaneously launch PIFS into the next leg of its strategic journey.
Below you will find a note from our Board leadership. I have full confidence that this exciting transition is in good hands and will propel PIFS to new heights.
With appreciation,
Sue (Mrs. D)
---
A Note From the Board of Trustees
To our PIFS Community,
The Board of Trustees would like to thank Mrs. D for her innumerable contributions to PIFS during her tenure. In her role as Head of School, Mrs. D has demonstrated an unwavering commitment to making PIFS the incredible place that it is today and has helped foster a love of learning in every child who has come through our little red school house. The Board knows we can count on her ongoing leadership as she continues to support our mission while ensuring a smooth transition to her successor.
We wanted to immediately follow Mrs. D's announcement to offer more logistical details and a place for our community to direct questions and discussion as this process unfolds. As we move forward, please know that the Board of Trustees is fully committed to ensuring a seamless transition of leadership. We would like to take this opportunity to share the initial steps we are taking in this regard.
As Mrs. D noted, she will be staying on as Head of School through the end of this academic school year and she has graciously agreed to stay on into the following year in an advisory role to provide support throughout the transition period. Next year, PIFS will begin preparations to renew our NAEYC accreditation, which will be a wonderful opportunity for Mrs. D and our new Head of School to work hand-in-hand. We are confident that this will provide the necessary institutional knowledge, continuity, and support to ensure continued success toward the ongoing achievement of our mission.
After researching and interviewing several search firms, we have retained Educators Collaborative, a highly regarded firm specializing in school leadership placements to lead the search for our next Head of School. We are confident that Educators Collaborative is well suited to help us identify and hire the right person to take on this important role. Our initial discussions with Educators Collaborative have also confirmed our belief that we are positively poised to attract a truly incredible new Head of School.
We will be creating a Search Committee with representation from school leadership, teachers, parents and current board members. The Search Committee will partner with Educators Collaborative to solicit feedback and conduct a thoughtful and thorough search process, providing regular updates to our parent community.
Please be on the lookout for a short survey to gather your thoughts about the search and what we should be looking for in our next Head of School next week. Your feedback is so important to us!
Thank you for your positivity and support as we navigate this exciting next chapter together!
Warmly,
The PIFS Board of Trustees
---
FAQ
Do you have a question that is not answered here? Feel free to email headofschoolsearch@PIFS.org to contact us.

How can I be involved in the Head of School search process?
We are committed to making the search for our next Head of School an inclusive process and will provide opportunities for the PIFS community to offer input throughout. We have asked the search consultants from Educators Collaborative to conduct virtual listening sessions to learn more about PIFS and the opportunities facing our school now and in the future. In addition, we will be inviting all members of the school community to complete a confidential online survey to share their thoughts about the search and what we should be looking for in our next Head of School. Then, as the search nears its conclusion, we will invite members of the school community to meet the finalist candidates and provide feedback on each candidate.

What is the general timeline for the Head of School search?
While the process has already begun, there is no hard "end" date for Mrs. D to step down from her role as Head of School. Because of her gracious open-ended timing, we feel we can be thoughtful and intentional about our search and find someone who is the best fit for our PIFS Community. There is no rush, but we are hopeful that we will be able to find the new Head of School before the end of this academic year. Mrs. D will be involved next year to ensure a seamless, smooth transition.

What is the role of the Search Committee?
The Search Committee will partner closely with Educators Collaborative to lead the search process and make final recommendations to the PIFS Board of Trustees.
What is the role of Educators Collaborative, the search firm, and how were they selected?
Several members of the Board of Trustees conducted research on search firms specializing in educational search, conducted informational interviews and reviewed proposals. Ultimately, this group strongly recommended the selection of Educators Collaborative to the Board of Trustees.
Educators Collaborative will gather information from outreach and engagement opportunities and the online survey, and working closely with the Search Committee, will develop the position description. They will seek to identify a pool of candidates whose experience, backgrounds, and characteristics align with our vision for the next Head of School.
Additionally, Educators Collaborative will screen all potential candidates and support the Search Committee through the interview process, ensuring that the candidates' and committee's need for information, diligence, and confidentiality are met.
Will there be any internal candidates?
The Search Committee encourages the application of all individuals who have a genuine interest in leading PIFS, including anyone who is currently employed at the school. We will attempt to create a level playing field, ensuring that all candidates are assessed in the context of the entire field of candidates. Confidentiality of internal candidates is equally important as that of external candidates.

How will candidates be evaluated?
All candidates will be evaluated based on how well their skills and characteristics match those desired by our school community. Those skills and characteristics will be identified drawing on the survey responses and constituent interviews conducted by Educators' Collaborative consultants. The Search Committee will go through multiple steps to acquaint themselves with the pool of candidates before narrowing that group down to a small group of finalists before making an official offer.
When will the new Head of School begin?
We hope that the new Head of School will be in place by July 1, 2022 in advance of the start of the school year. Thankfully, there is no hard "end" date for Mrs. D to step down from her role as Head of School and Mrs. D will be involved next year to ensure a seamless, smooth transition. We will provide further updates around timing as this process unfolds.
---

Who is the Search Committee?
Laura Sullivan is the current President of the Putnam Indian Field School Board of Trustees. Though her two-year term will come to an end in June, she will stay on the Board in a newly-created Transition Chair position. In this role, Laura will focus on ensuring that the Head of School transition is as seamless as possible for every member of the PIFS community. In her five years as a PIFS parent, Laura has held a variety of volunteer and leadership positions ranging from class parent to auction co-chair. She has three children: Sammy (6) who graduated from PIFS in 2020, Benji (4) a current PIFS Pre-K student, and Rosie (2) a current PIFS Toddler student. Laura graduated from The George Washington University in 2008 and her background is in non-profit Development and Donor Relations.

Daisy Sanders is currently Vice President of the Board and the incoming President. She is the mother of past Toddler student Jack and current Toddler Ella. She co-chaired the annual auction in the fall of 2020, and was also class parent. Daisy graduated from Tulane University with a B.A. inCommunications and Sociology, and is currently a freelance writer. She was previously a Senior Editor at Hearst Digital Media.

Emily Garrett has been part of the PIFS family for five years and is in her third year on the Board of Trustees. She served for two years as the Chair of the Education Committee and is currently the Marketing Chair, involved with various aspects of communications. Emily has had three children attend PIFS, including Caroline (3), currently in the Nursery 1 classroom. Emily is active in the community in a variety of charitable organizations as well as at her older children's ongoing school. Emily graduated with a B.A. in Art History from Wake Forest University in 2007, and her background is in Fine Art insurance.

Alexandra Friedman is the mother of current Pre-K student Arthur and Nursery student Adler. Alex has served as a class parent, co-chaired the 2020 Auction, and is helping plant and facilitate the PIFS Gardens. She serves on the Board of Trustees as the Green Chair. She is a Licensed Associate Real Estate Broker at Compass Real Estate. Alex currently serves on many local charity boards and enjoys giving back to our wonderful community. She graduated from Indiana University.

Jaclyn Glazer is mother to three PIFS students. She joined the PIFS Board in 2021, serving as both Building and Grounds Chair and as Treasurer on the Executive Committee. Jaclyn graduated from the University of Virginia in 2008 with a B.A. in Economics and a Minor in Art History. She joined Citigroup upon graduating where she worked within the Markets division for 13 years, and now enjoys being home with her children.

Kosanna Poon is the mother of 2021 graduate Lucas and current Toddler student Nicolas. This is her 4th year as a PIFS parent. She is currently co-chair of the Parents Activities Committee (PAC) and serves on the Board of Trustees. Kosanna is an active volunteer at PIFS, participating in school events such as the Auction, Book Fair, and Art Show. She currently runs a Spanish real estate investment company along with her husband. She was previously a structured credit professional at major international banks based in New York for over 13 years. She graduated from MIT with a B.S. in Finance and Marketing.

Keeley Hynes is mother to current Nursery student Annabelle. She is a PIFS alum herself and active member of the PIFS community, including serving as the HR Chair on the Board of Trustees. Keeley is a Global Manager in People Operations at Google, leading Employee Relations for the Search, Ads and Geo divisions. Prior to Google, Keeley spent ten years at UBS in various Human Resources roles, both in New York and Hong Kong. She graduated from Vanderbilt University with a B.S. in Economics and Managerial Studies (Human & Organizational Development).